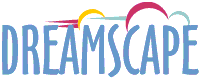 Dreamscape is an animated on-line experience in which internet users meet, interact, and live in a virtual graphical community. You can download the software and join the Dreamscape at VZones. The software was originally called WorldsAway, so you may see that name referenced in these pages.
The Dreamscape is a city on an island; Phantasus on the island of Kymer. Through the Dreamscape window, you present yourself in the form of a personalized, animated character called an avatar. Your avatar interacts with other people through their avatars. Avatars can perform many gestures; walk, talk, jump, wave, smile, frown, sit, as well as carry objects, make purchases, rent apartments, play games, and do other amazing things.
Dreamscape is much more than 'just' a chat room or a game. It's a place to live online, a community. Even though it is not a game, there are many games you can play including Bingo, Acromania, Poker, Roulette, Trivia games on many subjects, Slots, turf (apartment) decorating contests, costume contests, hunts for fuzzies, eggs, birds, etc. There are also many special Event days with all free games and special prizes.
Some of the everyday games charge Tokens to play, but MANY are free and give nice prizes for winners. Tokens are the monetary unit of the world. You earn Tokens for the time you spend inworld, sometimes as prizes in games, or even by buying & selling inworld items to other avatars.
You also use Tokens to pay your turf (apartment) rent, buy items from vending machines such as heads, wearable accessories, building materials & decorating items for your turf, etc.
These are some of my avatar's different "looks" in the Dreamscape. You can customize your looks by changing colors and heads. This is one of the most fun parts of the Dreamscape to me. I love to wear a variety of heads and the many accessories available for them. In fact, I collect heads and have quite a large collection!
Even though I don't have them pictured here, there are also many human heads available. I just don't wear them very often.

This is a large collection of helpful Dreamscape Links: help pages, maps, history, games, game plugins, game hosts, official VZones pages, etc.
Dreamscape Links List

My Dreamscape Pages

Earn Dreamscape Tokens! (discontinued)

Head Collection, 7 rooms full of heads(collection spans 1995 - 2013)

Daxx & Luther's Wedding Announcement (July 2001)

Daxx & Luther's Wedding Pictures - I only have 1 pic up for now, will put more up later. (July 2001)

Kymer Elf Photo Album - This page is a photo album of all the elves I have been able to find to take pics of. Plus, there is a collage showing most of the gestures they make. (December 2000)

Kymer Elf Escapee's Escapades - This page is devoted entirely to Kymer Elf Escapee. He has become quite a notorious figure around the Dreamscape. (December 2000)

Parking Paladin(December 1999)

Dreamscape Scenes(1996, maybe some 1997?)

Ancient Dreamscape Scenes(1996)

Open beta turf contest - These are pics of my beta 2.x turf that missed the contest deadline.

Pics of my Dreamscape rare items shop: D-Mart (shop is permanently closed)